WSV Acta Orion
In November 2015, windfarm supply vessel Acta Orion has been put into service. She is to service the build and maintenance of windfarms at sea. Having the DP-2 notation enables her to stay put, even with an extreme failure on one side of the switchboard. The ship has a hotel capability for 80 guests. Several Failure Mode Effect Analyze (FMEA) tests revealed the quality and effectivity of the electric propulsion installation.


The propellers have been specifically designed in accordance with the electric installation. The dynamic power management system of D&A® electric ensures that generators are not overloaded at any time whilst 100% of their power remains available.
Due to the use of D&A® Eprop®, the ships speed turned out to be 10% higher than designed. Dynamic positioning is also more effective due to the high acceleration of D&A® Eprop®.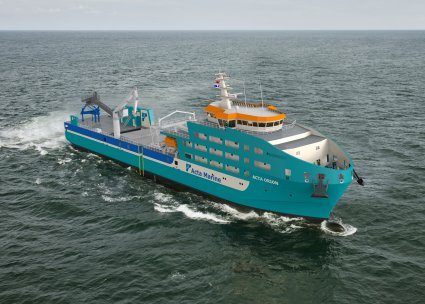 D&A® electric was responsible for the design, implementation, commissioning and turnkey delivery of the complete drive system, comprising:

- 1 D&A® main switchboard for 5 generators in DP-2 execution
- 5-fold D&A® DPMS Dynamic power management system

- 2 D&A® Eprop® panels for propulsion of 1500kW each
- 2 D&A® Ebow panels for retractable bow thruster of 750kW each

- 1 D&A® Ebow panel for tunnel bow thruster of 485kW
- 2 D&A® static converters for the ships board net of 350kVA

- 1 complete Human Machine Interface via a redundant glassfibre network

- 2 electric motors for propulsion
- 3 electric motors for bow thrusters
Logical solutions... for shipping
The Eprop system is a frequency-controlled diesel-electric drive that allows a normal barge to use up to 40% less fuel without any loss of speed. This result is determined by a different way of looking at the entire vessel, it's normal sailing behaviour and the desired speed. The propulsion train is adjusted accordingly and shows significantly better fuel returns.

---
Want to know more?
Would you like more information? Do you have questions about the possibilities in your specific situation? Contact us and we will gladly provide you with efficient ideas.